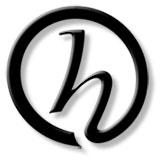 Email Settings
This page provides instructions on setting up a device to gather your domain related email (you@yourdomain.com) and assumes the accounts are already setup on the server (through your hosting account cPanel).
There are three important questions:
1. IMAP or POP protocol? IMAP is the most common these days.
2. Secure (SSL) or standard.
3. Have you confirmed the password is correct? It is worth the time to verify the password.
Webmail - Make sure your password is valid!
The easiest way to verify an email account's password is using Webmail, a browser-based email portal. Simply add "/webmail" to the end of your website url.
http://www.yourdomain.com/webmail
it will redirect to this login page...(click this link)
https://host.hemispheresinternet.com:2096/
Enter your full email address as the username.
The following instructions are for the most popular method, IMAP protocol via a secure SSL connection. The difference in settings between IMAP and POP are simply the port numbers. I am including screenshots ('Mail' program on a Mac) to help illustrate some of the options.
INCOMING SERVER for IMAP + SSL (Secure)
Incoming Mail Server:
host.hemispheresinternet.com
User Name/Acct:
you@yourdomain.com
Password: (confirm your password using Webmail, see above)
Port: 993 (under 'Advanced' tab)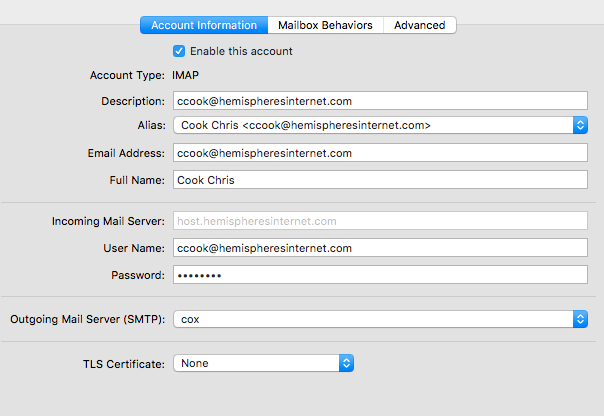 For SSL use, there are a couple of Advanced settings to confirm.
Verify that Port 993 (for POP protocol use Port 995)
Check 'SSL' (or similar) and 'Authentication = Password method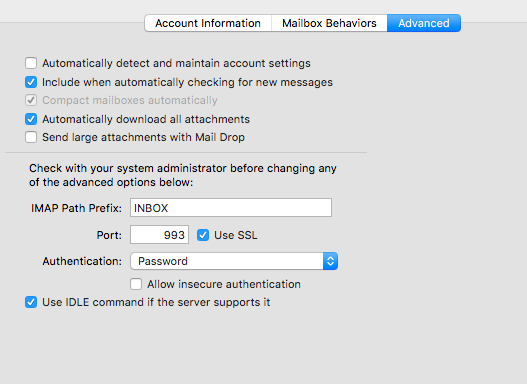 OUTGOING SERVER (SMTP)
IMPORTANT
... If at all possible, use the SMTP service provided by your ISP. For example, if you use Cox, setup a Cox SMTP entry and share it among all your email accounts (note the 'cox = smtp.cox.net' entry below)
If that is not an option for you and you need to use the web server for sending email, here are the SSL/secure settings:
Outgoing Server:
host.hemispheresinternet.com
(same as incoming)
Port:
465
Check 'Use SSL' (or similar) and 'Authentication = Password method
To authenticate and allow you to send email through the server, enter your email address and email password. In Windows/Outlook you may see this called 'Logon Information'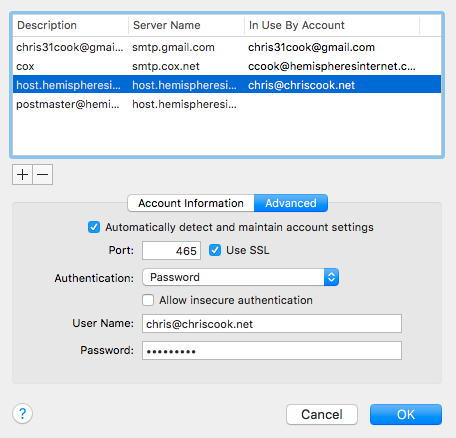 WHY IS THIS A SECRET?
You don't need an SMTP setting for everyone of your email accounts. For example, I use the 'cox' setting for virtually all of my Hemispheres accounts. If you setup and have one host.hemispheresinternet.com SMTP entry, simply use if for all your domain related accounts. On a Mac, to access the 'hidden' SMTP accounts, it's at the bottom of the Outgoing Mail Server pulldown menu.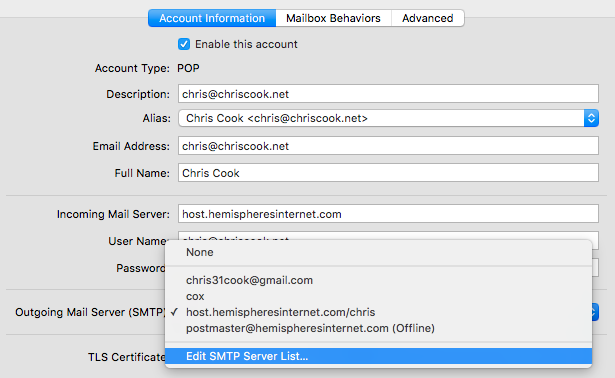 Lastly, I'm offering this link for possible future reference. It's a screenshot library for setting up Windows Outlook. DO NOT use the settings shown here obviously, but it shows the various editing windows.
[OUTLOOK SCREENSHOTS]
---

Payment processing by Stripe.
Hemispheres Internet
480.222.0330
email